Latest news from the choir
"What a tremendous effort from Sussex Chorus":
Review of Sussex Chorus Mozart Concert, 24 June 2023, St Andrews Church, Burgess Hill
"Intrigued by wanting to hear Mozart's great but challenging Mass in C minor, I ventured on Saturday to Sussex Chorus's performance in St Andrew's Church, Burgess Hill. I was not disappointed. Stephen Anthony Brown, the dynamic conductor, opted for keeping the voices together, rather than in two choirs, so we heard the voice parts well and each line clearly defined and it was in the quieter moments that the choir was heard to its best advantage. In the louder sections, the professional wind players slightly drowned the voices. But what a tremendous effort from Sussex Chorus!
The concert opened with Mozart's Laudate Dominum, magically sung by Louisa Alice-Rose and sensitively accompanied by Kent Sinfonia and the choir. In the Mass, Isla MacEwan (soprano) sang beautifully throughout her extremely wide ranging parts, though unnecessarily forcing the occasional top note.  The tenor Mark Dobell and bass James Berry provided ideal support.
Mozart's Clarinet Concerto, arguably the most wonderful of all clarinet pieces, was here masterfully portrayed by Peter Cigleris on the proper instrument, the basset-clarinet, which has a stunning resonance in the lower register and perfect clarity in the upper notes. On a very hot summer's evening, this work provided a perfect, calming refreshment to the evening.
Throughout the evening, Stephen Anthony Brown ensured that a fine momentum was maintained and drew the best out of an exhausting but intriguing programme." 
Robert Hammersley
25 June 2023
A glowing review for our performance of Dvořák Stabat Mater
'It is a joy to see choral music springing back to life as we come to terms with the New Normal in social contacts and musical events. Sussex Chorus' fine performance of the Dvorak Stabat Mater in St Andrew's Church, Burgess Hill, marked another notch up on the road to recovery in the wake of the Covid-induced devastation of choral singing. The choir has grown both in number and in stature and under the expert guidance of their director Stephen Anthony Brown are a real pleasure to hear and, evidenced by the glow in the singers' faces, in which to sing.
Dvorak's opening Stabat Mater builds to a grand opulence for choir and the excellent quartet of soloists, ably accompanied by the Kent Sinfonia. The now familiar voices of soprano Zita Syme and heldentenor Charne Rochford blended beautifully in duet, answered lyrically by the rich mezzo-soprano Frances Gregory and mellow baritone of Andrew Davies in the Qui Est Homo. Each soloist enjoyed their own moment in the spotlight and the basses of the choir their own in the Eia Mater. Especially rousing was the whole choir in the Virgin Virginium movement and with a musical nod to the opening of the work, the singers gave their all in the satisfying finale, with prolonged applause from the full, appreciative audience.
Moving from strength to strength, Sussex Chorus is a choir going places and welcomes musical singers to its ranks, particularly pleasing to see the crop of younger faces appearing at each new event.'
Simon Austin
26 March 2023
"Fabulous Carol Concert!"
By the light of a giant Christmas tree, on Sunday 18th December, Sussex Chorus performed a wonderful programme of carols in the Oak Hall at Sheffield Park. Tickets sold out early to what is now becoming a popular occasion at this lovely National Trust property and the audience were able to enjoy arrangements of some favourite Christmas music and - with great enthusiasm - join in with well known carols.
We loved this message sent afterwards from an audience member: "Fabulous Christmas Concert ..... Your choir is fantastic, so professional and beautiful to listen to."
posted: 20.12.2022
Remembrance Concert receives excellent review!
We're delighted to share with you this excellent review from Simon Austin of our Remembrance Concert held on 12 November in Burgess Hill. Our thanks to all the performers and, especially, to our Director of Music, Stephen Anthony Brown who led us in preparing and delivering this well-liked performance. Read the review HERE.
posted: 17.11.2022
Centenary Celebration Concert a huge success!
On Saturday, 25 June, Sussex Chorus finally were able to bring their Centenary Gala Concert to local audiences, celebrating in style 100 years of choral singing and enjoyment.
And this opportunity to celebrate with them proved very popular! A programme of well known opera choruses and arias, plus some key works in celebration of the Queen's Platinum Jubilee was clearly a hit with music lovers in Mid Sussex.
We think this picture tells you all you need to know ......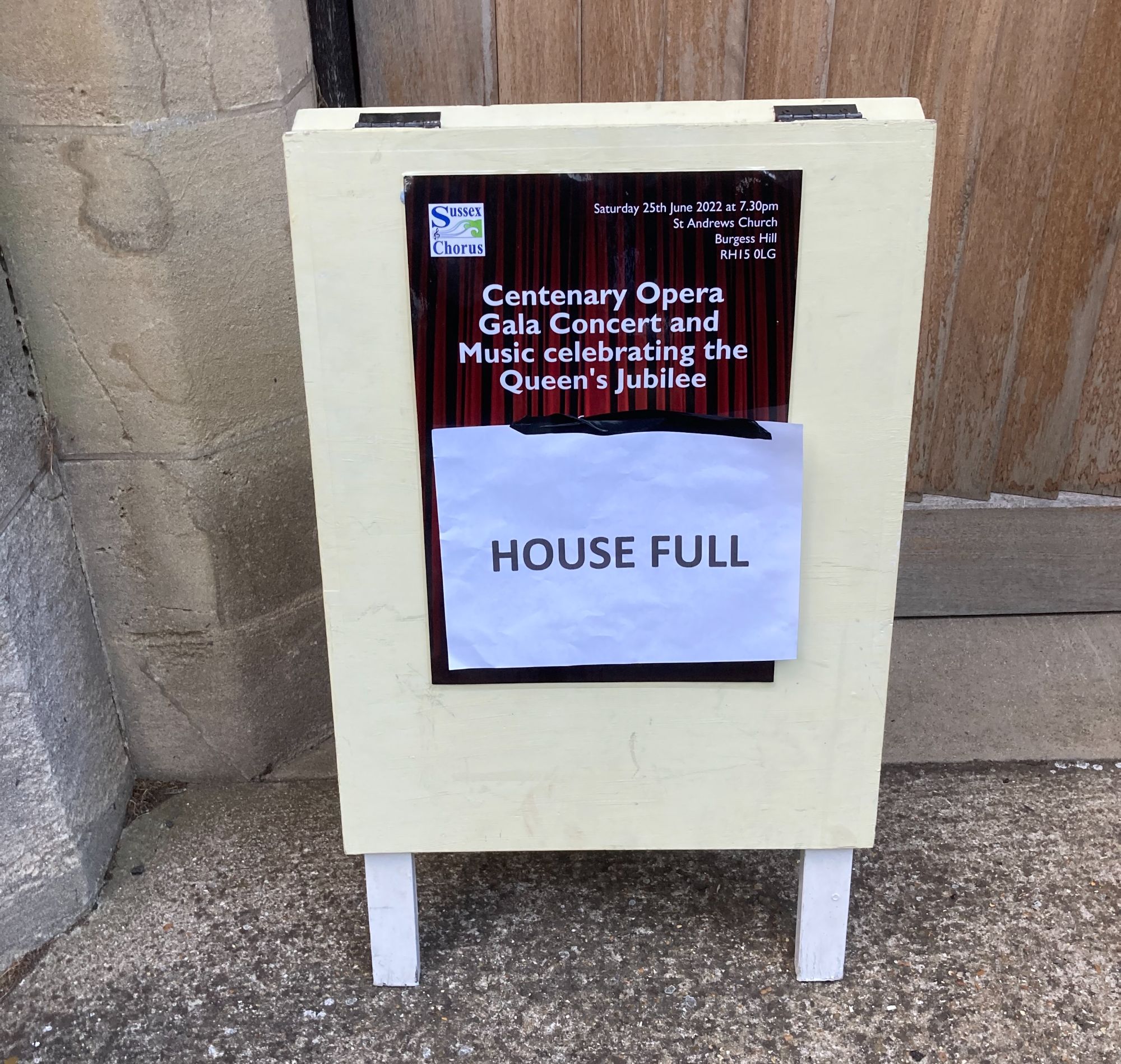 Rehearsals have started for the St John Passion
Monday 10 January saw the start of rehearsals for the March performance of Bach's St John Passion. This promises to be a wonderful concert for audience and performers alike with our Director of Music, Stephen Anthony Brown taking on the role of Evangelist in addition to conducting choir and orchestra.
Seems a daunting task? Well perhaps, but Stephen has an enviable record of performing this role as a professional tenor soloist and tells us that when conducting and performing in this way previously, it has worked brilliantly, adding drama and atmosphere to this great work of Bach's.
So, save the date and keep an eye out for tickets going on sale. And - if you'd like to join with the choir and sing this work - just drop us a note via the Contact Us page. You will be most welcome at rehearsals!
Christmas concert going ahead 18 December
We're pleased to confirm that our Family Christmas Concert on Saturday 18 December 2021 is to go ahead as planned though of course we have made certain arrangments in light of the current situation with Covid.
We have decided not to serve interval drinks - sorry! However, it seems sensible to keep opportunities for mixing to a minimum. Additionally, the audience and performers will be using different entrances and everyone will be wearing face masks unless actually singing. We would very much appreciate all audience members wearing face masks too, unless able to provide evidence of an exemption. St Andrews is a large, spacious church and there will be plenty of space for our audience as well as rows reserved at the back for anyone who does not want to sit with those who are singing audience carols.
We are requiring that all performers carry out a Lateral Flow Test before the performance and only take part if the result is negative. We would strongly encourage audience members to do the same. Plenty of hand sanitiser will be available.
Tickets will be available through Eventbrite (see concert page) up until 7pm on Saturday.
Thank you to all our members, performers and, of course, our audience who are making sure we can still celebrate Christmas 2021 in one of the best ways we know how!
Rehearsals start 6 September
We're delighted that in-person rehearsals will now be starting at the beginning of the Autumn term. With a big concert planned for March 2022 and a Family Christmas Concert for 18 December 2021, we plan to use the first few weeks bringing our somewhat rusty voices back to life and just enjoying singing together, in person, once again. Working on carols and Christmas music should be a big help for bringing us back to good voice!
For anyone new to Sussex Chorus, you can find much more information about singing with us on the Membership page, but this is the information everyone will need to know:
Rehearsals will be at the usual venue, St Paul's Catholic College, Jane Murray Way, Burgess Hill, RH15 8GA, will start promptly at 7.15 and finish at 9.15pm. We rehearse in the large, well-ventilated main hall and a full Covid-related risk assessment will be carried out, procedures put in place and clear guidance issued to singers before we start (see below).
Our new Director of Music, Stephen Anthony Brown will be leading us with Jeremy Weaver accompanying on piano. More about both Stephen and Jeremy here.
Celebration concert postponed due to Covid restrictions
It is with great sadness that we have had to postpone our concert planned for Saturday 18 September. Billed as our very special, Centenary Celebration Concert, we have made the difficult decision to postpone this as the later than expeccted lifting of pandemic restrictions - and particularly challenging rules around amateur music groups rehearsing - have made it impossible for the choir to be performance-ready in time.
However, we refuse to be defeated! So now plan to make 2022 our celebratory year - the first year of our next 100 years! We look forward very much to celebrating with you and once again bringing you great music throughout next year.
While many regulations have eased, we are still mindful of the need to plan a secure environent for our members before rehearsals commence. Sussex Chorus committee will be undertaking a comprehensive risk assessment and putting in place strong risk mitigation measures. Clear guidance that reflects these measures will be shared with choir members before rehearsals start.
We monitor and respond to all relevant announcements and updates from government and, as members of national organisation Making Music, we are able to follow their regularly updated information and work with their resources which are designed specifically for amateur music groups.